PTO Events, 2022-23
AUTUMN
Kindergarten Caregiver ICED Coffee & Lemonade Chat, Sept. 19, 2022
Kindergarten caregivers are invited to join the PTO and Hardy administrators for an iced coffee and lemonade social from 8:00 - 8:45 am next to the Hardy Garden, near the corner of Lake Street and Brooks Ave. It will be a great opportunity to meet other caregivers and hear about how you can get involved in the PTO.
School Picture Day, Sept. 30, 2022
The PTO is looking forward to working with Coffee Pond Photography again for School Picture Day this year. Please watch your email and your student's backpack for more information, including ordering details. We are always looking for volunteers to help on Picture Day!
---
Back-to-School Book Walk, September 2022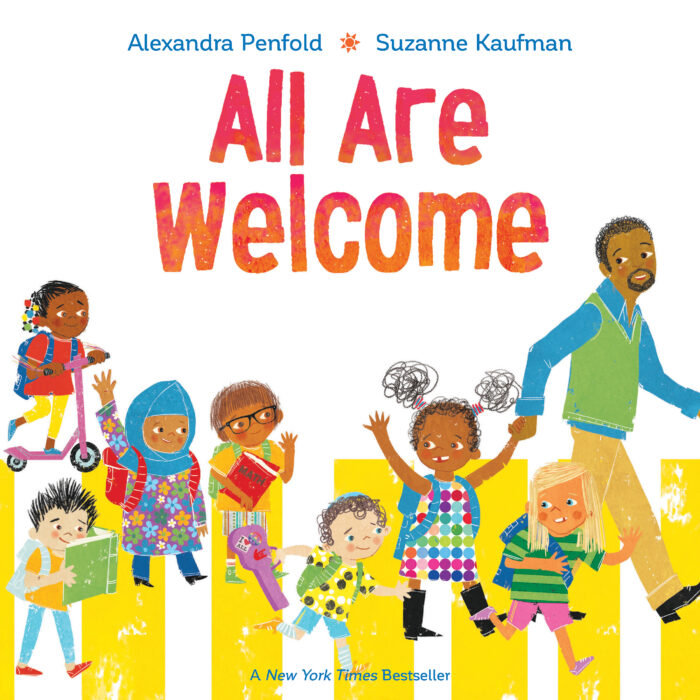 Visit the fence of the Hardy Lake Street playground to follow the PTO Back-to-School book walk, featuring All Are Welcome, by Suzanne Kaufman and Alexandra Penfold.
---
Hardy Harvest Fest, Oct. 2, 2022 (RAIN DATE)

Join us for a fall-favorite community event: Hardy Harvest Fest! Stop by between 1pm and 4pm on Sunday, October 2nd, to buy fall pumpkins and mums and guess the weight of the GIANT pumpkin. Free crafts will be available for families. We hope to see you in our pumpkin patch on Hardy's Lake St. front lawn!
Volunteers are needed for set-up, sales table, craft table, and clean-up. Thank you for volunteering!
---
Hardy Fall Playdate, Oct. 30, 2022

Join us on the Hardy Chandler Street playground to play and connect with other families from 2-4 pm on Sunday, October, 30.
Costumes are welcome and optional!
---
Hardy Book Fair, Nov. 14-18, 2022
The Hardy PTO Book Fair occurs November 14th - 18th. Here's the scoop:
Students attend the

Book

Fair

during their Library class during the week of November 14-18th.

Teacher wish lists are available for online purchasing to support your classroom libraries.
Families can come by the Hardy Library to shop, too! Family shopping times/dates:
After school: Tues., Nov. 15, 2:30-3:30 pm
Evening shopping: Thurs., Nov. 17, 6:00-7:30 pm (Please note: there will be no food at this year's evening shopping event.)
We need volunteer cashiers and shopping helpers every year! Thank you for volunteering!
Online shopping will remain open through Sun., Nov. 20, 3 pm.
WINTER
Hardy Carnival - Sat., Jan. 21, 2023
Come to the Hardy Carnival in the Hardy Gymnasium from 1 pm - 3 pm on Saturday, January 21st! This fun and FREE community event is made possible by PTO through donations received through our annual direct donation drive.
All Hardy families are welcome and encouraged to kick off the New Year by playing games, getting inked up in our tattoo booth, and taking home some fun, free prizes!
---
Walk, Ride & Roll to School Day - Wednesday, February 1
On Wed., Feb. 1st, We're cheering on students who walk, bike, or roll to school -- or at school! -- with this annual Winter Walk event.
---
Caregiver Coffee & Cocoa Chat - Thurs., Feb. 16, After Drop-Off

Celebrate Kindness Week at Hardy with a Hardy caregivers' coffee and hot cocoa chat at the Chandler Street playground at Hardy School after morning drop-off on Thursday, February 16. See you there!


---
Hour of Code Week - March 6-10, 2023
Hour of Code is a PTO-sponsored, caregiver-led event at which students get a brief introduction to the world of coding. All classes participate in a 40-minute session, scheduled during their Library time.
This is a great way to get involved and spend some time in your student's classroom. Adults do NOT need coding experience as classroom helpers.
SPRING
FAMILY SKATE NIGHT - MARCH 24, 2023, 4 PM - 6 PM
Come ice skate with your Hardy friends at the Ed Burns skating rink in Arlington! All Hardy families are invited.
Hardy Skate Night is Fri., Mar. 24, from 4 pm to 6 pm at Ed Burns Arena in Arlington.
The event will include 5th grade Skate Buddies, pizza/snacks for sale, bake sale, raffle baskets, and Chuck-a-Puck game.
To help us plan, we ask that you purchase tickets in advance if possible. Advance tickets will be available online until 12 pm the day of the event.
Tickets are $6 in advance or $7 at the door. Skate rentals included in ticket purchase, BYO bike helmet suggested!
Cash payment is preferred at the event! Personal check and PayPal will also be accepted.
This event is organized by 5th grade families and will raise funds for 5th grade end-of-year activities.
Thank you also to our wonderful sponsors: Arlington Orthodontics and Arlington Pediatric Dental!
Coffee & Cocoa Caregiver Chat - Tues., Apr. 25
Come connect with other Hardy caregivers after morning drop-off at 8 am on the Chandler St. playground for a Coffee & Cocoa Chat. Caregivers of students from all grades are invited! We will also be selling remaining Spirit Wear stock.
If you have questions about any PTO board positions that are opening for 2022-23, Katrina Bernstein-Lewicke and/or Patsy O'Brien (current and former PTO presidents) will be available to chat.
May Walk, Bike, and Roll to School Day - Fri., May 5, 2023
Rain Delay: The next Massachusetts Walk, Bike, and Roll to School Day will be Fri., May 5 (postponed from May 3 due to forecasted rain). If you like handing out stickers and bookmarks (students are welcome to help!) please sign up here.
Share and Celebrate: #MASRTS #iwalked2023 #irolled2023 #HardySchoolArlington
Hardy Garden Spring Planting Day - Sat., May 6, 2023
Join us Sat., May 6, for an afternoon of planting native pollinator-friendly perennials and fun annual plants in the Hardy garden (corner of Lake St. and Brooks Ave.)! We will start planting at 2:30 pm and stay until everything is in the ground.
We will have children's gardening gloves available and some digging tools. Please bring your own adult gloves and additional digging tools to help out!
For questions, please contact Alham at garden@hardypto.com.
Jim Swan Memorial 5th Grade Trash Pick-a-Thon - Sun., May 7, 2023
NEW DATE: The second annual Jim Swan Memorial 5th Grade Trash Pick-a-Thon will be Sun., May 7, from 12:50 pm to 2:30 pm, beginning at the Hardy main entrance.
Fifth grade students will meet at 12:50 pm to get their trash bags and pickers, then set off on their neighborhood clean-up adventure at 1 pm!
This event perfectly exemplifies the Hardy motto of Hand, Mind, and Heart. Jim Swan was a Hardy dad who passed away in 2021. Among the many ways Jim made an impact on the Hardy community was walking to Hardy and around town with his family, picking up litter with a bucket and picker, making the world a bit of a brighter, cleaner place.
In his memory, the collective 5th grade class goal is to pick up thirty bags (or more!) of litter around East Arlington. In the weeks leading up to the event, 5th graders will collect pledges from family, friends, and neighbors. The students will ask for a sponsorship amount per trash bag for the collective goal. For example, if someone pledges $1 per bag and the class collects 30 bags, the person will contribute $30. We hope this will be a great way to get grandparents and others who live out-of-town involved in our Hardy experience.
On the 30th, we will meet at Hardy, equip the kids with gloves, pickers, and trash bags, and send them on their way. Adults are welcome to walk with their student or allow them to be unaccompanied, depending on your comfort level.

Student involvement: Students will ask parents, family, and neighbors in advance for a financial pledge and record it on their orange pledge sheet. They will then walk around for 1.5 hours to clean up the neighborhood. After the event, they will collect their pledges.
Caregiver Involvement: PTO needs some help collecting items to be used the day of the event. Purchases of supplies will be reimbursed by Hardy PTO. Please save receipts!
If you have any questions please contact Annie Clarke-Lauer at snacks@hardypto.com.
---
STEAM Maker Festival - Sun., May 21, 2023
The inaugural Hardy STEAM (Science, Technology, Engineering, Art, and Math) Maker Festival happening on Sun., May 21, from 10 am to 1 pm! (Rain date Saturday, May 27.) The event will take place on the Chandler St. playground at Hardy.
Join us for hands-on arts, crafts, building, planting, and science. We'll have live STEM demos every hour and a free raffle at 12:30 pm!
We need your help to make this event successful!
Please volunteer to help with festival activities using this SignUpGenius link.
Please collect and donate toilet paper rolls, paper towel tubes, and other small cardboard items for crafting and building activities. You can drop them off in the bin outside Nurse Sarah's office.
Please contact Alham Saadat with any questions, at garden@hardypto.com.
---
Field Day - Fri., Jun. 2
Students participate in this annual Hardy event on Fri., June 2, at Thorndike Field and Hardy School. (Rain date is Fri., June 9.)

Field Day is sponsored by the PTO and we need LOTS of adult volunteers to make this a great day for the kids!

VOLUNTEERS
Kindergarten Volunteers (At Hardy)
K classes participate from 8:45 am to 10:30 am. We also need help with popsicles after the activities.
Grade 1 and 2 Volunteers (At Thorndike Field or Hardy)
These events run from 8:30 am to 10:30 am at Thorndike Field and following that will be Hardy. We also need help with popsicles after the activities.
Volunteer for grade 1 and 2 events here.
Grade 3, 4, and 5 Volunteers (At Thorndike Field)
Grades 3, 4, and 5 events run from 10:30 am to 1:30 pm. Volunteer assignments are broken up into two shifts: 10:30 am to 12:15 pm, and 12 pm to 1:30 pm. We also need help with popsicles after the children return from Thorndike, field clean up, and transport of items back to Hardy.
Volunteer for grade 3, 4, and 5 events here.
Supplies and Transport
Check the sign-up genius links above for times to help!
CLASS COLOR SHIRTS
Students are encouraged to wear their grade level color to Field Day. (This helps teachers and volunteers keep track of them outside.) Fifth graders will be wearing their class-designed T-shirt.
Hardy T-shirts are not required but always welcome. Any shirt your student has in their class color is great!
Class Shirt Colors:
K - Purple
1st - Yellow
2nd - Orange
3rd - Green
4th - Red
5th - Class-designed T-shirt
We currently have Hardy T-shirts available at a self-serve table in the Hardy lobby. New shirts are $5 each, payment by PayPal or cash/check (Hardy PTO) submitted to the office. Sizes and colors are limited!
Free secondhand Hardy shirts are also available in the swap bin on the same table: take shirts or leave clean used shirts you no longer need!
---
Hardy Picnic - Sat., Jun. 10
Join us for the Hardy End-of-Year Picnic, Sat., June 10, from 11 am to 2 pm. Families are invited to pack a picnic lunch and join in free games, prizes, and music on the Hardy Chandler St. playground. We'll have a lollipop pull, free raffle drawing at 1:30 pm, bubbles, and water ball toss. An ice cream truck will visit us from 12:30 to 1:15 ($3 per ice cream).
Please volunteer to help at this event if you are able! Sign up here.
Questions? Please contact katrina@hardypto.com.